What is polypropylene for furniture?
When talking about polypropylene for furniture, it is very common not to know its involvement in the structure and composition of functional furniture. Today's post is going to answer all your questions about this material.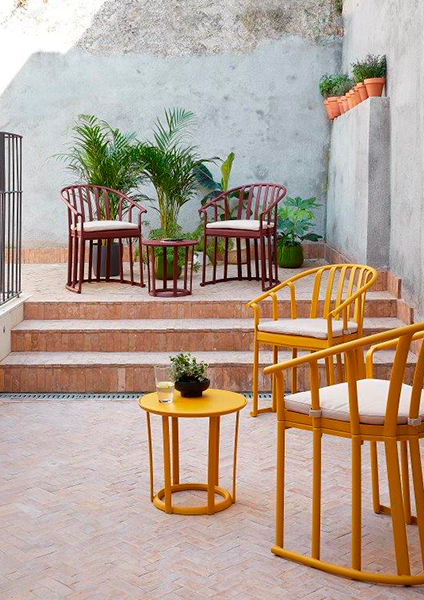 What is polypropylene?
Polypropylene is a polymer, a thermoplastic material that becomes flexible at high temperatures and has a rigid structure when cooled. It is a very versatile plastic and is therefore present in many everyday settings. It stands out for its features, such as being easy to maintain, durable, flexible and low density, which allows it to be very light and easy to carry.
It is a waterproof material, meaning it is very resistant to weather and inclement weather, thus making it a very durable product, as well as good value for money. Polypropylene is a recyclable material, i.e., it can be reused up to six times in a row without losing its attributes and properties. Its ease of moulding also allows for a wide variety of truly original and unique designs, ideal for all uses and functions. We at Resol are experts in the manufacture of polypropylene furniture for the domestic and services-focused sectors, such as catering and hospitality, as well as offering office solutions.
We guarantee our customers a wide variety of top-quality and long-lasting options. Most of our products have a reinforced fibreglass, plus an extra layer of protection against UV rays. We always offer durable polypropylene furniture that is easy to maintain, comfortable, ecological and at a very competitive price.
The best material for outdoor furniture
Polypropylene for furniture is an excellent choice, both for the manufacture of outdoor and indoor pieces. Resol offers a wide variety of tables and chairs, armchairs and loungers manufactured in polypropylene. Some of our most outstanding products as a solution for indoor and outdoor spaces include the Smart chair, the Ikona chair or the Angie Wood chair, in addition to our selection of upholstered chairs ideal for indoor use.
Our catalogue has a wide variety of tables made of polypropylene. Some of our most popular tables include the New Dessa table, Bini table, Vela table and Noa table. Very functional and very versatile models.
For much more relaxed environments we recommend our sun loungers and our armchairs that offer outstanding comfort together with a light structure and easy maintenance. Highlights are our Anou Toledo, Anou Wood and Anou Rocking armchairs ideal for placing in waiting rooms or in rest areas. And our Sky Club and Marina Club sun loungers are ideal for more refined pool and terrace areas.
Resol also offers polypropylene for garden furniture to enjoy the outdoors in total comfort. Our Click-Clack and Raff sets are an excellent option to furnish gardens of any type of establishment with a totally innovative design, offering the comfort and atmosphere to suit any business.
Polypropylene solutions in design furniture
As we mentioned earlier, polypropylene in furniture is an excellent furniture solution for both indoor and outdoor use. Businesses and establishments with outdoor services spaces, such as restaurants, hotels, bars, cafés, etc., choose furniture manufactured from this material. If you are looking for a tailored solution for your establishment, our team of experts is at your disposal to offer you their undivided attention. Do not hesitate to contact us.
And don't forget to check out our previous post: 10 reasons to use plastic furniture in commercial spaces.