Skin Sled Chair with Arms
Designed to provide maximum comfort, the SKIN collection has a wide variety of frames and upholstery to better adapt the design to the setting. Our range of chairs, benches and stools enables this design to fit into any setting in your office.
Sled-base armchair for indoor use. Seat injected with fiberglass and PP. Structure made of steel with chrome or white finishing. Stackable. Net weight 7,11 kg (15.67 lb).
Ask for information
Customize
Measures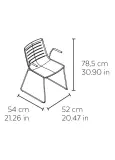 Logistics data
Dimensions
66.1 × 60.1 × 90 cm
Dimensions
73.7 × 60.7 × 96.9 cm