Interview with Joan Gaspar
Joan Gaspar: "HUB is a table system designed as a meeting point for people, something that pairs perfectly with any type of chair"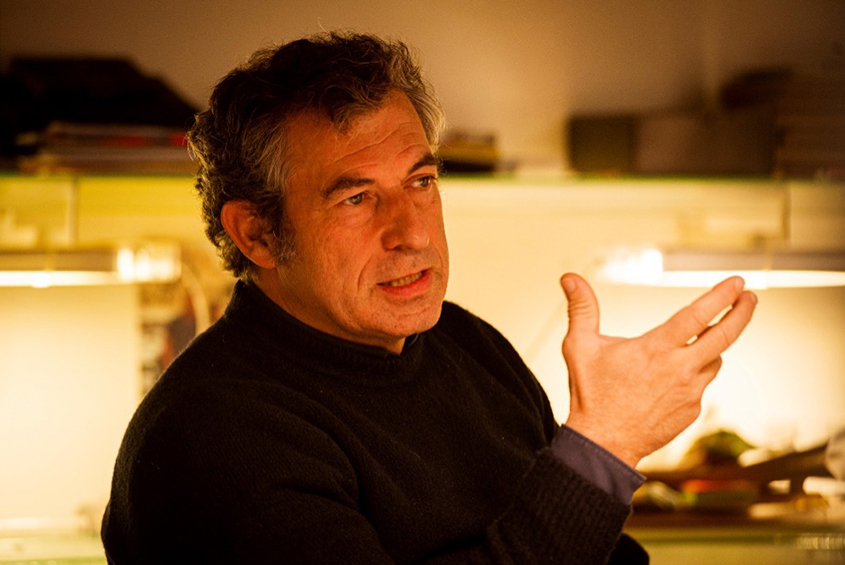 Joan Gaspar has been working with Resol for many years now. His designs have become best-sellers that have endured down through the years. Gaspar greets us at the door of his studio located in the Sant Gervasi neighbourhood of Barcelona, a space full of initial mock-ups, drawings and prototypes, which right off the bat you notice the thousands and thousands of ideas floating around. And within this setting our enjoyable conversation began to flow.
RESOL is launching a new generation of tables that you have designed: the HUB collection. How would you describe this collection in a single sentence?
I'd say it is a collection of versatile tables, a table system, and that is not too gaudy, I might add. While not having too many formal pretensions, I think that it has just what is needed. And this table also goes with any type of chair, one of the initial purposes, namely, to serve as a link with the rest of RESOL's products.
What type of customer is it intended for?
RESOL was in need of a collection of tables for the Contract sector. HUB is a robust collection, both from a weight and stability viewpoint, with a high perceived quality. It is also important to note how it can be used both indoors and outdoors.
The collection is presenting three types of table sets according to height: low 40 cm-high tables, medium or standard 74 cm-high tables and high 110 cm-high tables. What uses are each of the categories designed for?
Each height is actually designed for a different use. The idea is to have different heights and create sets with the most suitable armchair, chair or stool while retaining the same design and offering formal continuity. The low model, for example, can be accompanied by the BINI lounge model, the standard height model with a Lisbon chair and the high table with a Lisbon stool.
Because... the idea is for RESOL to be at the helm?
Yes, at the helm and inspiring, too. While RESOL has been and continues to be at the helm of large-scale projects, in many cases the tables were not from the RESOL brand. Very interesting table collections have been recently added to the catalogue, such as Toledo and Milano-Barcino, and now we have expanded our line with HUB.
Why was it named HUB? What is behind HUB?
The idea is of HUB being a meeting point. This is where things happen, where chairs are lined up beside each other, where people and ideas come together. It is a name that matches the initial goal of the project.
This is a collection that has allowed the new tabletop finishes to be introduced in the Resol catalogue. Can you explain more about this?
Of course: HUB has different HPL finishes with wood, marble or concrete effect for outdoor use as well as indoor melamines. All these finishes offer the commander greater versatility when it comes to matching pieces together. This involved keeping an eye on the market and expanding both the measurements and finishes options.
You have been working with RESOL for a long time… which project have you the fondest memories of?
Yes, since 2001. My first project with them was for the Julia chair and its children's version, Julieta, which I would say are my favourites. I am also very fond of the Lisboa collection, which we launched in 2004.
Well, this is warranted as even 20 years later, Lisboa is still a best-selling collection.
And it also has its history. The Lisboa project was the first chair I made with Resol using gas technology. And its design was a historical throwback to the typical coffee-shop or casino wooden chair. And it was so well received on the market, maybe due to being robust and having such a strong structure. It is a best seller thanks to standing the test of time so well. Something that is evidenced by the imitations by other brands that have subsequently come out with variables that I believe that most likely make these models less durable than the Lisboa one. One thing that is clear is how we set an idea, paved the way, looking for references of something has already been done… This premise is generally the one that I have applied in almost all the projects that I have done for Resol.
Given the number of replicas of this design, is it still a source of pride for you as a designer?
Yes, of course. I am very interested in Lisboa as it is still a very valid product. Secondly, because it has been commanded under very good projects. And thirdly, because architects and interior designers choose it because it is a regular easy chair. Therefore, it has many attributes that make it universal. Remember that we even thought it would be too elitist a project when starting out.
And what route will you be taking from now on?
Well, I think that if Resol had to make a new mould for Lisboa, then maybe it would be a good time to give it some minor touch ups, perhaps making it a few millimetres smaller for example.
Why?
I have always thought that the seat could be a little narrower. Although we could also leave it as it is, and it would still be functional.
The recognition or success of a collection, as we already mentioned, comes by itself, that is, when it is commanded. But also in the form of awards. The Bini collection, for example, won a Silver Delta award in the latest edition at the ADI-FAD awards. How is it received?
I was very excited, especially for Resol as well as for me personally. My career is also closely related to lighting, the reason why I was also excited to receive recognition for a design of a different product category. But I also want to add that the aim of producing products is not about awards. It takes years for them to become iconic.
As we mentioned earlier, products become iconic after their prolonged use, as is the case with the Lisboa project
Yes, it is something that comes over time. The benchmark of a brand comes from the market, the use of a product, its implementation, its repetition and its value by the public.
But apart from awards, do you think the Bini collection can become iconic?
Yes, I do. It has all the components to do so. I had already begun to imagine the Bini some ten years ago perhaps. The armchair was conceived first, followed by the chair. While the two categories are very good, I think that the one that really paved the way for us was the armchair.
And how did the idea of basing the armchair on slats come about?
We were thinking of it with this design from the very outset. We are inspired by the traditional low can chairs but in polypropylene, a material that lends a certain freedom in terms of production. The virtues of this productive technology expand the attributes of the model, making it stackable, for example.
And now an addition to the Bini collection, the cushion, is going to be presented at Milan. Can you tell us more?
Yes, the cushion was created due to this being a type of seat that invites you to sit for hours. The cushions mean that the slats are not felt as much. We have created a round cushion that allows the uniqueness of the design of the chair or armchair to be retained.
RESOL is breaking ground in the interior furniture sector. How do you view this new route?
It is going well, it is a good strategy offering indoor and outdoor furniture. At the end of the day, what is funny is how the furniture is also unique, extremely innovative and original for indoors as well. And it means that sales are less dependent on the season in the case of Resol.
And this is also happening the other way around, where specialist indoor brands are now also manufactured for the outdoors.
Yes, this is true. What I am seeing is that not everyone is prepared for outdoor furniture, since this needs to be a product that allows a certain degree of freedom that does not exist in the case of indoor ones. It has to not weigh too much and has to withstand the changes of time, where an outdoor product that needs to be placed under a porch is not actually an outdoor product.
Joan Gaspar works with a range of brands, and without making comparisons, what values would you highlight about Resol?
What interested me the most when I started working with Resol was their technique and the options that the world of plastics offered for doing a range of things. In this regard, I feel lucky because I had and continue to have a great time creating the chair collections with Resol. It is true that static furniture does not have the magic that lights, for example, might have. But with Resol, millions of my Julietas are now used all over the globe, for example, and it is so gratifying to think that there are many children who use these chairs in schools and in their homes. The transformation made by Resol allows many people have access to the product.
There is also another delicate side to this, since I am very aware of how precise the designs have to be from the beginning, since a mould is a very big investment.
While we perform certain ergonomic tests with machined versions, we always make to-scale models at our studio that allow us to examine not only comfort that can be observed in other ways, but also how it looks from a visual perspective. A render does not just provide all the information, we also learn to decipher the renders. The to-scale model is necessary when it comes to making a modification of one degree here or there…
Joan Gaspar has designed lamps, chairs, hangers, planters as well as terrazzo. What is one thing that you would love to create that you still haven't done?
Oh, I don't know…maybe something more mechanical… a rack shelving system, for example.
What is a typical day like at your studio?
I use a lot of paper and pencil, I am always sketching, not only in the studio, but also when I am out and about. I always carry notebooks around with me, wait a minute… (he pulls open a closet with dozens of black Moleskine-style notebooks full of drawings). And then there is my team, including Albert who has no limits when it comes to drawing, who interprets my drawings, and starts working with the 3D.
Do you always carry around these notebooks... in case you are inspired at any given time? Is that the reason why? Do you have this artistic point of view?
Yes, you could say I spend all day thinking up ideas. Not so much artistic, but rather about how I would create something. I start to sketch, and I think what technology should be used or what I wish to convey with a design that may interest me and the company that should manufacture it. What the customer wants is very much at the forefront of my mind. For me, this is key. We strive for the project to be machine-produced whenever we come up with an idea. I can only draw it if I know how it will be made. My projects are based on a mechanism, not so much when it comes to the chairs, but rather with other types of projects.
Is everything invented in industrial design?
What makes the design change is the technique, just as the case with architecture. New techniques give the designs a different perception to the one we used to have.
You mention technique, but what about materials?
Well, the materials are the result of the technique, as it allows you to see how these new materials are applied. A new technique with a lifelong material can awaken a different perception.
What will the future of design look like? Will human creativity continue to exist, or will everything fall in the hands of artificial intelligence?
I don't know… it's hard to say, but a machine can't be humanistic.
Our conversation took place around a large table, a meeting point that allowed us to get to know this proactive designer with an interest in technique and the options it offers to revisit pieces from the past and adapt them to the present.