Stools, just like tables and chairs, are essential furniture in any pub to go next to the bar or high tables. Today's post will let you find out about Resol's bar stools with backrest, ideal for furnishing your establishment.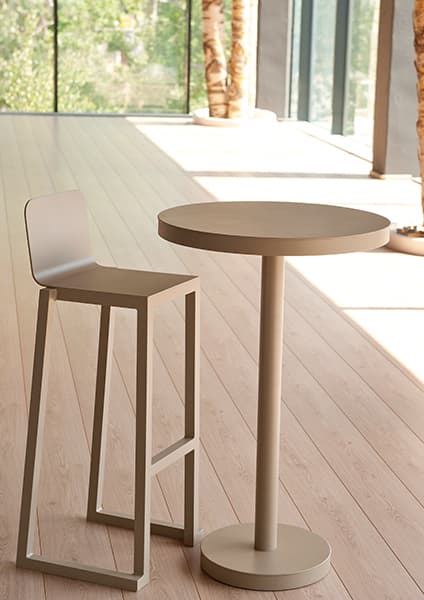 Types of bar stools with backrest
Being mindful of the elements involved in the design of a dining room, mainly the chairs and the tables, is essential when designing any type of establishment related to the hotel industry. However, one element that is a must is the high stool. There is a wide variety of bar stools, both with and without backrest, However, bar stools with backrest are undoubtedly the most acclaimed by establishments. 
High stools with backrest
High stools with backrest are ideal to be paired with high tables or to place strategically in different areas of the premises. They are a very interesting furniture element to place, playing with the joint heights of the rest of the furniture, combined with the tables and chairs in your bar. This type of stool is the most commonly used one in venues and leisure facilities thanks to how they provide the atmosphere with a much more informal and relaxed style.
Low stools with backrest
Low stools with backrest are an excellent option to place next to the bar or next to waist-high tables. They offer a comfort that a conventional chair next to the bar does not. They are mainly designed to allow customers to enjoy a coffee or a snack by the bar spontaneously and informally.
Discover Resol's bar stools with backrest
We at Resol are specialists in the manufacture of long-lasting furniture from polypropylene and highly resistant resins. Our wide stool catalogue is ideal for all types of businesses that are looking to give that alternative and relaxed touch offered by the stools. 
Our catalogue contains more classic and vintage solutions, such as our Woody high stool and its upholstered version. We also have much more minimalist and modern solutions, such as our Lisboa high stool, or our Barcino stool from the same line. And if you are looking for a much more elegant and sophisticated alternative, choose our Skin Upholstered Integral stool, an excellent alternative to provide the elegance that any bar or distinguished establishment needs. 

Apart from our bar stools with backrest, our catalogue also contains the ideal high tables to accompany them, such as our Toledo High Table or the Werzalit table, ideal in any corner of any type of establishment.
Don't forget that Resol has all the furniture you are looking for to renovate or furnish your establishment, whether it is a hotel, a restaurant, a cafeteria, a leisure venue, etc. We have everything you need to offer a quality service. Do not hesitate to contact us if you are looking for a tailored solution for your project. We will be only too happy to assist you.