Design and functionality: in search of balance
In the field of contract furniture for indoor and outdoor spaces for the restaurant and hospitality sectors, the debate between design and functionality is a key issue. As trends and customers' needs evolve, the professionals of this sector face the challenge of finding the perfect balance between an attractive design and functionality to meet the needs of all types of business and offer their customers a quality service.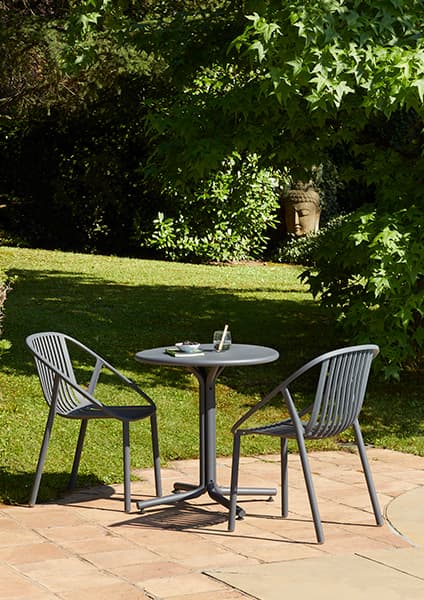 The role of design and functionality in contract furniture
Design is a fundamental part of any project. Spaces designated for restaurant and hospitality use must be visually attractive to draw in customers and create a unique experience. Designer furniture must reflect the brand's identity, transmit its style and values and contribute to creating a pleasant, welcoming atmosphere. Aesthetics become a key factor to set a business apart from the competition and make a permanent impression on your visitors.
However, you can't prioritise design at the expense of functionality. Contract furniture must be capable of withstanding intensive use and stand the test of time. Durability and quality are essential elements to guarantee a profitable investment in the long-term. Additionally, the furniture must adapt to the specific needs of the restaurant and hospitality sector, offering comfort, ergonomics and versatility.
Therefore, finding a balance between design and functionality is getting more and more crucial. This means working closely with designers and manufacturers who specialise in contract furniture, understand the needs of the sector and are able to translate the aesthetic vision into practical solutions. Personalisation and adaptability are key elements in this process, in addition to remembering that each project has specific, unique requirements.
It is important to point out that design and functionality are opposing concepts, but are also concepts that can complement each other. A good design does not necessarily have to sacrifice functionality, and a functional design can be aesthetically attractive. In fact, when the appropriate balance is achieved, design and functionality mutually reinforce each other, creating spaces that captivate customers and give them a pleasant experience.
Creating attractive and functional spaces in restaurant and hospitality businesses
We at Resol are specialised professionals in the sector, committed to offering personalised solutions that adapt to each project. Our work method sets us apart from the competition, always managing to offer a satisfactory, successful result, creating spaces that delight visitors whilst meeting the practical requirements of each business.
If you are looking for a personalised solution designed to meet your needs, don't hesitate to contact us so we can assist you from the initial design right through to the end of the project. We will be happy to help you. We also invite you to take a look at our previous projects so you can see the results of our work in detail.