Anthea 3-Seater Sofa
A distinguished collection for the most select homes, ANTHEA can't be defined as a complement, since its exquisite design turns each of its elements into the star of the setting. Its basic ingredients are colour, solutions for textile innovations, and form. Perfect features for both indoors and outdoors.
Chair with a painted steel sled-base structure. Flame-retardant and water-repellent polyester strip. Anti-slip feet. Screws made of stainless steel.
Ask for information
Customize
Measures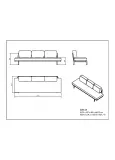 Logistics data
Dimensions
280 × 90 × 65 cm