Anthea Sofa System G
A distinguished collection for the most select homes, ANTHEA can't be defined as a complement, since its exquisite design turns each of its elements into the star of the setting. Its basic ingredients are colour, solutions for textile innovations, and form. Perfect features for both indoors and outdoors.
Sofa system with lacquered aluminium structure, cushions and upholstery suitable for outdoor use, and backrest in braided trimming tape on aluminium tube. Wide range of colours and combinations to choose from the optional cushions.
Ask for information
Customize
Measures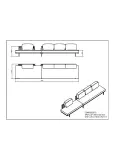 Logistics data
Dimensions
205 × 90 × 65 cm