Interview with Jorge Pensi
Jorge Pensi: "Making the things we design last is not something we aim for but it makes us proud when they do".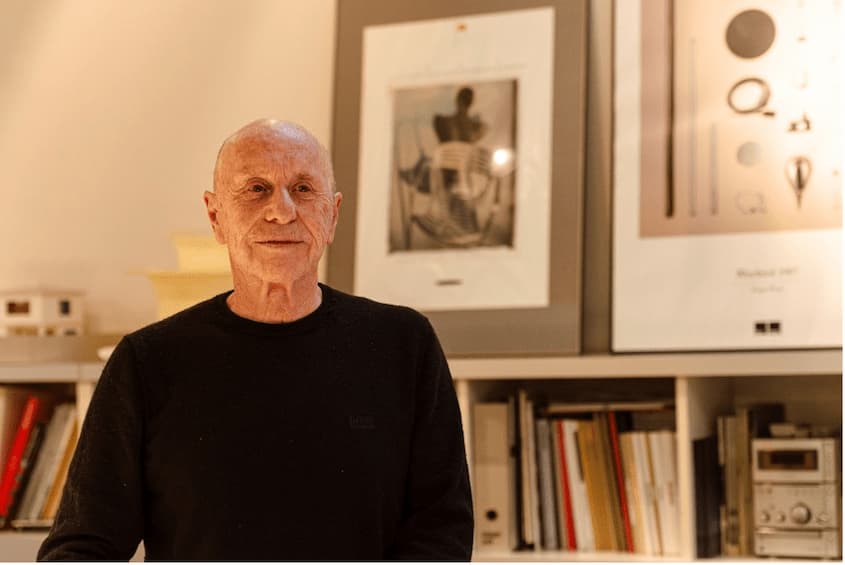 Pensi Design Studio is located in a brightly-lit, ground floor property that looks out onto the interior gardens of the facility known as the Vila Olímpica in Barcelona. Straight away we receive a friendly welcome from Jorge Pensi, Constanze Schütz, Diego Slemenson and Roman Proubasta, a team of designers who are more like family than co-workers. And as such, each of them feels free to contribute their ideas during the interview.
The latest development for Pensi Design Studio in the RESOL catalogue is the incorporation of ANOU Indoor. It is a generously-proportioned armchair to embrace whoever sits in it. Isn't that right? I would like you to explain it in your own words.
Jorge Pensi (J.P.). Our idea was to find a way to make an object with a plastic structure on the outside sufficiently seductive to be able to have it indoors. At the time, we thought we could upholster it all over.
ANOU started out as an armchair for outdoors that stands out due to the design of its backrest reminiscent of the stitching of leather armchairs. How did you get the idea to transfer this concept to a polypropylene piece? What steps did you have to take to manage to industrialize an idea that came from an initially "handcrafted" concept?
J.P. Yes, it was like a wink, to give the impression of a warmer object, not a plastic piece. But I would like Constanze to explain it, as she was also very involved in the creative process.
Constanze Schütz (C.S.) Yes, what we wanted was for the armchair to be amazing from all angles. In a nutshell it's the idea of discovering the softest part of the cushions where you want to sit.
J.P. And based on this nutshell what we wanted was to create different uses based on the different leg options available. The rocking chair, for example, is one of these options.
Indeed, the rocking chair is maybe the most unique option. More so if you bear in mind that it is an armchair of large proportions.
C.S. The rocking chair has been our dream for many years. And we were very happy that Resol accepted it at the time. What's more is that it came on to the market at a time when no-one was making them and now they are making them again. I actually did have one at home and we've been using it for many years.
There is also a version with wooden legs. Anou really is very versatile.
C.S. The original design of this armchair was a chair for outdoors, but with the comfort of a soft armchair like indoor ones. So what we wanted to do was cover many different environments, interior and exterior and different legs, with the same armchair. The wooden feet, for example, make it much more inviting.
Also the family grew. Both the indoor and the outdoor version can be complemented with a pouf that gives them more possibilities for rest and the outdoor version of which becomes a table if you remove the cushion.
J.P. There's a really important part we're not talking about and that's what I'm going to talk about now. When we designed the Toledo Aire table, we designed an aluminium base and we said, if we made a bigger base we could have bigger tables and we could also use it for Anou.
Within the RESOL catalogue there is another large family born in Pensi Design Studio. That's the Toledo family. The matriarch is the TOLEDO chair in anodised aluminium, which came on to the market in 1988 and has become a global reference, recognisable and recognised by many people. Can you tell us the reason its recognition has lasted over all these years?
Diego Slemenson (D.S.) We are privileged enough to have designed an icon of Spanish design with international prestige and also the world's first chair made of wrought aluminium that can be used outdoors. For this to be possible it had to comply with a series of characteristics. On the one hand, its production had to be using traditional methods. It has four legs and four wrought aluminium parts which all have to be fastened together with hidden screws and nuts and this set of things determine its shape. And when the chair became independent, our dream was to make it with different technology.
J.P. Going back to the start, when we were asked to make the chair, nobody thought that it would be aluminium. And one day, while watching a waiter in a bar cutting ham with an aluminium cutter I thought that if you could have an aluminium ham cutter, why not an aluminium chair? And I'll tell you something else, the whole shape of the chair came about thanks to a very clear idea, that of reducing the weight.
D.S. And the gap in the middle is so the chair isn't too slippery.
J.P. It's a dialogue between reality and desire.
You can also imagine it as a skeleton with ribs coming from the back bone.
J.P. In fact we wanted to name it after a bone of the human body, but the previous manufacturer preferred the name Toledo.
Some years later, TOLEDO AIRE (2018) came out, the injected polypropylene version of the original TOLEDO in a single piece. A dream come true for Pensi Design Studio and RESOL.
D.S. Our dream was to see the original Toledo chair with a material that made it more accessible. And with Resol we did it, we adapted its design and Toledo Aire was born. We made it in a single piece and the result was a much more organic shape, it is much more aesthetically-pleasing.
C.S. What we had to take out in aluminium we had to add in plastic to gain stability. It was like adapting the shape to the material. And its durability is also guaranteed outdoors as with its predecessor. Something they both have in their favour.
D.S. It is an iconic chair that has remained over the years and which we have also redesigned in another material and people still love it and it still looks like a very modern chair. Additionally it is stable but very light. Which is where the name Toledo Aire comes from.
Is TOLEDO AIRE the clearest example of what we might call the democratisation of design?
J.P. Yes, I would agree with that.
C.S. Although a lot of the time the value of a piece is not its economic cost, but its emotional value.
Roman Proubasta R.P. Many times the value of a product has to do with the way you relate to it. Bins are full of furniture that isn't kept probably because it's not appreciated, but at the same time, the pieces that excite you survive the test of time because people don't get rid of them.
J.P. We have a lot of products that are timeless and that gives us peace of mind. And the measure of success of a product is not how well it sells but looking at it after 15 years and thinking that it still looks great.
TOLEDO AIRE also has its recycled plastic version, within RESOL's Green Edition line. It really is a chair that works with different materials without losing that harmony in its shapes. That's worthy of merit, right
D.S. Yes, it's great that there's a recycled plastic version. It even looks different because it has a different finish and that's a plus. When things have a specific characteristic that you can also see, I think that's very important.
And the TOLEDO family grew with a range of tables that gave the collection more meaning by allowing the creation of sets. Can you please explain?
J.S. We had a Toledo table originally, with an aluminium tabletop. And when me and Roman started to make the table we said, let's make slits in the surface that evoke the Toledo chair. It was important to us for it to have that identifying feature.
R.P. What we tried to do with the table was take advantage of the attributes of Toledo Aire, where the angles disappeared; what we wanted to do was make a base that followed on to the legs in a continuous manner. The legs of the base are reminiscent of the legs of the chair and join in a fluid manner.
And that's where the magic happened, because we now had a set, a collection
R.P. Yes, that's what it's all about, speaking the same language and applying it to different elements.
In 2019, IKONA was created, an innovative design that won the 2021 IF Gold Design award. What would you highlight about this design?
C.S. We received an order for a chair that would be iconic and of course, throughout the work process we were calling it the Icona, and that then became its name. This award meant we had fulfilled the order because they were looking for a product that would position the brand in terms of design. We wanted a new iconic alternative to Toledo.
J.P. We started out saying that we wanted something with a lot of slits.
C.S. Yes, the first thing we talked about was shadows. In our hearts we wanted to go back to the iconic Toledo, using a similar resource, but updated to the current times.
J.P. Sun and shadow, we wanted to achieve these effects with different shapes.
C.S. And also work with a different silhouette, both from the front and from the side. And we also wanted to embrace the body with the arms, which are actually not arms or even an added backrest. They are like a deformation of the back inwards.
J.P. In this case, unlike Toledo Aire, a lot of digital file work went into designing Ikona.
C.S. Well, it was my first chair drawn in 3D, I'd always drawn them by hand. Hand-made drawings have an abstract aspect, which expresses the final intention and what you want to say with an object much better. And as we work as a team, a lot of the time your co-worker sees things in your abstract drawing that you hadn't seen, and that's very interesting.
Your studio has worked with many national and international brands. What is it that makes your designs successful?
J.P. I think it's how nice we are (ha ha ha ha). And the eternal search for a non-established solution. And we are always optimistic thinking that the best is still to come.
D.S. We have great capacity for adaptation to different clients and we are very strict. We often need to innovate but it is also true that you can't innovate beyond your client's capacity for innovation. How do you maintain that relationship that you believe is right and at the same time do what the client believes you should do?
J.P. And many times we are very strict and respect the briefing but many other times we don't even listen.
So, just between you and me, you often change the client's initial idea?
R.P. No, you could say that we sometimes force it. But if we see that they are not happy, we change it straight away. We are passionate about our work, it's very vocational. We enjoy every project, we need to do things the right way and meet the client's needs and make the design withstand the test of time.
J.P. Our goal is always to show that we are fresh and that what we are doing is on a par with people's expectations. Making the things we design last is not our main goal but it makes us proud when they do.
C.S. At the end of the day what we are trying to do is create a bridge between what we interpret in our daily lives, the client we have in front of us and what the people who use the products might love. When a client comes to us off the bat with a need to create something iconic, that takes the freshness away at first, because it creates a challenge and puts more stress on the creative process.
How do you work in the studio? What is a normal working day like?
C.S. There's no such thing as a normal day at the studio. But the good thing about design is that it is not dependent on the place of work.
R.P. Our work cannot be measured in hours. You never know how long you are going to take in the initial creation process. But we've never missed a deadline. What I can say is that we're very creative and when we see that a client isn't excited about the idea, it's not hard for us to come up with something else. Our greatest challenge is convincing the client.
How do you see product design? Do you think it's all already been done?
J.P. It has all been done but you can look for new things. What's important is to arrive at something that is the origin of something.
We ended our interview with these four people there, which rather than a typical question-answer formula, it became a conversation in which all the opinions are just as important. Without a doubt, a way of working that contributes to the philosophy of a cooperative studio, where they work enthusiastically and with the clear intention of being ahead of their time.