The 5 key aspects of contract furniture
Contract furniture is one of the most widely-used solutions to meet the furniture needs of businesses and establishments dedicated to the provision of services, such as hotels, restaurants and bars, offices, schools, public buildings, etc., for example. Below we will explain the five key aspects of contract furniture.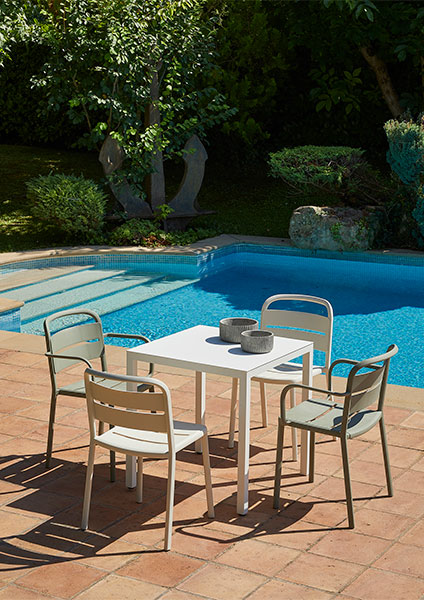 What is contract furniture?
Contract furniture relates to the furniture and decorative elements designed and manufactured specifically to meet the needs of spaces of intensive use. These projects include hotels, resorts, restaurants, offices and other public places. They stand out due to their series production of furniture, for example, tables, chairs, armchairs, stools, sun loungers, garden sets, etc. Contract furniture uses hard-wearing materials and its sophisticated design is mainly functional.
The importance of contract furniture
Contract furniture plays a crucial role in meeting the needs that can arise in hotels, restaurants or spaces that offer any kind of hospitality. That's why these are the five key aspects to bear in mind if you choose to use contract furniture in any space, business or establishment:
Quality and durability: Contract furniture is designed to withstand intensive, continuous use. Contractual furniture and accessories are made from high quality materials and undergo rigorous durability testing. This guarantees that it is hard-wearing and capable of withstanding the daily wear in spaces with intensive activity.
Style and design: Contract furniture stands out thanks to its exclusive style and design. Its manufacturers understand the importance of creating attractive, functional spaces. Contractual furniture is designed by experts in this field, combining aesthetics with functionality to meet the requirements of projects with contract furniture.
Regulatory compliance: Contract furniture must comply with a series of specific standards and regulations for the hotel and restaurant industry. These standards cover aspects such as safety, fire resistance and ergonomics. It is crucial for the furniture to comply with these requirements in order to guarantee guests' safety and comfort.
Personalisation: Contract furniture offers personalisation options to adapt it to the needs and preferences of each project. The manufacturers understand that each space has unique requirements and offer personalised solutions in terms of design, materials, colours and sizes. This allows the furniture to blend in perfectly with the colour scheme and identity of the establishment.
Value for money: Although contract furniture requires a higher initial investment than conventional furniture, it offers excellent value for money in the long term. Due to its durability and strength, contract furniture requires fewer replacements and repairs over time, which translates to significant savings in maintenance costs.
Hotel contract furniture
With its quality, durability, style and capacity for personalisation, contract furniture meets the unique needs of each business. By considering these five key aspects and understanding the importance of hotel contract furniture, owners and designers can be sure that their spaces will be exceptional in terms of functionality and aesthetics, offering their customers an excellent experience.