Pd-40 Pandora Litter Bin
Because even a wastebasket can be smart and functional at the same time. PANDORA is an essential component for select areas and it also features a self-extinguishing system.
Metal waste bin for indoor use in public spaces. Sorted waste bin for three types of waste. The top consists of a hinged cover lid with three openings and individual bag rings holder for each type of waste, featuring an easy liner exchange mechanism. ACCESSORIES: Vinyl waste identification badges (optional, not included).
Ask for information
Customize
Measurements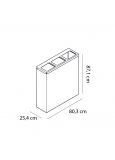 Sharepoint Certificaciones