Mr-60 Mercuri Litter bin
A collection of wastebaskets and ashtrays in classic style, it is part of a collection that fits in with any office or public building.
Metal waste bin for indoor use in public spaces. Flip top with anti-noise profile. Comes with a bag ring holder attached to the body for easy bag replacement and maintenance. Printed vinyl waste pictograms. Also available in satin stainless steel.
Ask for information
Customize
Measurements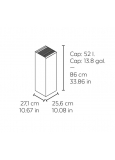 Logistic Data
Dimensions
1.09 × 0.36 × 0.36 cm