Mr-32 Mercuri Litter bin
A collection of wastebaskets and ashtrays in classic style, it is part of a collection that fits in with any office or public building.
Metal waste bin with ashtray for indoor use. Equipped with an interior ashtray container. Equipped with a base at the bottom to isolate contents from the immediate environment. Also available in satin stainless steel.
Ask for information
Customize
Measurements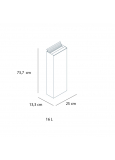 Logistic Data
Dimensions
0.81 × 0.19 × 0.3 cm
Truck 100 m^3
120.000 uds