Mercuri Mr-01 Wall-mounted Wastepaper basket with Ashtray
A collection of ashtrays and wastebaskets that stand out for their modern design available in two formats, to provide the setting with a more dynamic atmosphere.
Wall-mounted waste bin with ashtray for use indoor and in enclosed outdoor public spaces. Waste receptacle body equipped with a bag ring holder. Equipped with removable container. Ashtray equipped with a removable tray latched to a stainless-steel cable to prevent theft while facilitating emptying and cleaning during maintenance. Manufactured from resistant and durable materials to withstand high salinity and temperature and harsh conditions.
Ask for information
Customize
Measurements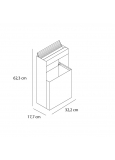 Logistic Data
Dimensions
0.68 × 0.35 × 0.22 cm