Link-10 Office Desktop
We know that to be productive, order must prevail in our workplace. The LINK collection lets you keep order with all its accessories without skimping on design.
Accessory desktop pad. Made of textured PVC and screen-printed on top over a foam base. The combination of the materials used in the design of the element facilitates its non-slip property on any surface. There are additional models available in the same series.
Ask for information
Customize
Measurements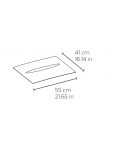 Logistic Data
Dimensions
0.24 × 0.2 × 0.1 cm