Jupiter-600/1 Litter Bin
Recycling wastebasket for common outdoor and indoor areas, available in various models depending on the function of the setting.
High-capacity waste bin with ashtray for indoor and outdoor use in enclosed spaces. Formed by a body and a top. The top is composed of two parts: one fixed and one mobile, to facilitate bin maintenance. Tilting top opens to 105º, surpassing the vertical position to prevent involuntary closure during handling and emptying of waste bags. Equipped with a base at the bottom to isolate contents from the immediate environment while providing greater bin stability. Comes with a bag ring holder attached to the body for easy bag replacement and maintenance. Also available with transparent polycarbonate front body for interior vision.
Ask for information
Customize
Measurements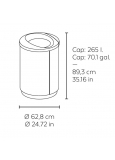 Logistic Data
Dimensions
0.91 × 0.65 × 0.65 cm