Jupiter-400 Litter Bin
Recycling wastebasket for common outdoor and indoor areas, available in various models depending on the function of the setting.
High-capacity three-waste recycling bin for indoor and outdoor use in enclosed spaces. Formed by a steel mesh body and a top. Body equipped with three removable containers (yellow/gray/blue) with bag ring holder for easy bag replacement and maintenance. The containers are also equipped with screen-printed waste identifying handles. Equipped with a base at the bottom to isolate contents from the immediate environment while providing greater bin stability. Also available in AISI-304 stainless steel or with transparent polycarbonate front body for interior vision.
Ask for information
Customize
Measurements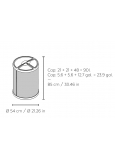 Logistic Data
Dimensions
0.93 × 0.56 × 0.56 cm