Din-8 Office Desktop
A wide collection of accessories for organisation, with elegant tabletop elements for daily use in offices.
Accessory metal Post-it® Note holder for 76x127 Post-it® Notes ideal for office desks and tables. Design created by combining different types of materials (metal and plastic) that lends the item an original and a light feel. Equipped with four transparent silicone anti-slip pads on the base. Includes one Post-it® Note pad. There are additional models available in the same series.
Ask for information
Customize
Measurements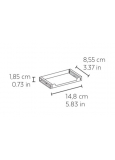 Logistic Data
Dimensions
0.16 × 0.11 × 0.03 cm