Din-13 Office Desktop
A wide collection of accessories for organisation, with elegant tabletop elements for daily use in offices.
Square pencil holder accessory ideal for office desks and tables. Design created by combining different types of materials (metal and plastic) that lends the item an original and a light feel Equipped with four transparent silicone anti-slip pads on the base. There are additional models available in the same series.
Ask for information
Customize
Measurements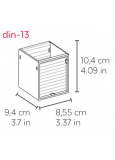 Logistic Data
Dimensions
0.12 × 0.12 × 0.12 cm