Branca-02 Coat Hanger
A practical coat rack, ideal for daily office use. It has been designed to eliminate construction components as far as possible, greatly simplifying its assembly. As an option, hangers can be hung on the racks.
Free-standing indoor garment rack. Consisting of a central column comprised of two threaded tubes and a set of four double plastic hangers placed at the top (8 hangers in total). Column supported on a round steel base.
Ask for information
Customize
Measurements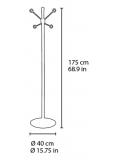 Logistic Data
Dimensions
0.43 × 0.43 × 0.08 cm