Basic-Eco-01 Litter Bin
A practical ecological wastebasket with a central body and divided interior to ease waste selection.
High-capacity metal recycling bin for sorting three types of waste, for indoor use in public spaces. Contains three removable containers with yellow, blue and grey handles to facilitate changing bags. Screen-printed waste identification handles.
Ask for information
Customize
Measurements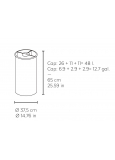 Logistic Data
Dimensions
0.45 × 0.44 × 0.69 cm