Bas-4500 Coat Hanger
A large coat rack with a simple structure that prioritises practicality and storage capacity.
Indoor rolling garment rack for use in common areas. Curved and welded single-piece metal tube with an arm for placing hangers. Equipped with four wheels (two with brakes) to facilitate displacement. Hangers not included.
Ask for information
Customize
Measurements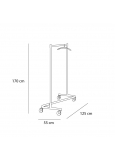 Logistic Data
Dimensions
0.75 × 0.35 × 0.1 cm