Artria-03 Litter Bin
Its different design and large capacity make ARTRIA the ideal wastebasket for the busiest areas.
High-capacity metal waste bin for use indoors and in enclosed outdoor public spaces. Waste bin comprised of body, top ring trim and covering lid. Body equipped with hinged door and triangular self-closing lock. Equipped with a concrete base at the bottom to isolate contents from the immediate environment while providing greater bin strength. Comes with a bag ring holder attached to the body for easy replacement of the bag and cleaning. ACCESSORIES: Interior container and hardware for anchoring to the floor.
Ask for information
Customize
Measurements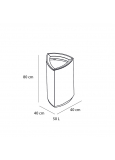 Logistic Data
Dimensions
1.4 × 0.8 × 0.63 cm