Skin Upholstered Spider Chair with Arms
Designed to provide maximum comfort, the SKIN collection has a wide variety of frames and upholstery to better adapt the design to the setting. Our range of chairs, benches and stools enables this design to fit into any setting in your office.
Spider arm chair for indoor use. Fibreglass and PP injected casing. Chrome-plated or white-painted steel structure. Foamed vinyl fabric with polyester-cotton textile frame. Suitable for indoor furniture with good resistance to wear and tear, waterproof, durable and easy to clean. Hand washing with neutral detergent is recommended. Strong and durable colours. 5 mm thick foams that withstand a pressure of 18 kg. To avoid marks, please do not stack upholstered chairs.
Ask for information
Customize
Measures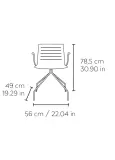 Logistics data
Dimensions
60 × 60 × 50 cm